Pay As You Go
Electricity Puts You
In Control
Same Day Power
Start for $60
No Deposit
Cancel Anytime
Same Day Power
Start for $60
No Deposit
Cancel Anytime
A Better Choice for Pay as You Go Electricity in Texas
Pay-as-you-go electricity plans for residents and small businesses living in non-regulated areas of Texas from an electric company committed to providing 100% renewable, clean energy.
We are on a mission to make it easy to get the lights turned on with no credit checks, no deposits, and our same-day power-on guarantee when you sign up before 6 p.m. Leave the BS (bill shock) behind and start saving money and the world with pay-as-you-go electricity from Pogo Energy.
Step 1
Check your address, see your rates and sign up online. It's fast and easy to set up your account.
Step 2
Select when you want to get turned on and charge-up with as little as $60. You can even get same day power!
Step 3
Enjoy the power! Daily texts or emails keep you informed of your usage and account balance.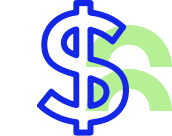 Step 4
Keep your account charged up. Add funds to your account online or go to a cash payment location.
Pogo's Pay as You Go Energy Plan Benefits
Contract Free Electricity
No commitment, no tricks, no joke! Pogo Energy is an electric company in Texas with a pay-as-you-go energy plan with no long-term contract, no credit check, and no hoops to jump through to get your power turned on.
Be In Control of Your Electric Usage
You hold the power. With same-day power on electric service, you tell us when to turn the lights on. Our pay-as-you-go energy plan helps you manage your electricity usage and reduce spend. When it is time to charge up, you can recharge your account on your terms online or at a cash payment location.
An Electric Company with Perks
We are the electric company that wants you to keep more and get more. Keep more of your money with no deposit, no late fees, no disconnect or reconnect fees. Get more with Pogo Perks. Every month you will earn Perks points. You can use your points to spin the Pogo Prize Wheel, and earn big.
Dedicated to Saving Tomorrow – 100% Clean Energy
We deliver 100% renewable energy. Pogo Energy's electricity is generated by either Texas wind or solar. While you save money with pay-as-you-go power, you also support clean electricity and our mission to save the world.
"I have been with Pogo 4 years. The new Perks spin game that gives credits to my account is great and I earned a gift card."
Meghan D.
"I am 100% satisfied woth Pogo energy. What I am paying for electricity is way cheaper than having a contract with another light company. Highly recommend Pogo Energy!"
Annabel S.
"I'm very new to Pogo Energy pay as you go but so far I'm loving it and how I can control how much money I want to put on my account balance and more. :)"
William C.
Same day power-on depends on your TDU's ability to process our request timely to have your power turned on – we control a lot of things, but we can't control how fast your TDU processes new power-on requests (the TDU apparently doesn't embrace modern technology).